Published by Scholastic Australia                Available in all good bookstores

Fun new pop-up book based on the best-selling Aussie Night before Christmas!

Lots of fun for the curious in this entertaining book. Find out what's behind the bushes, see the ute move through the sky, look at the style of  Santa's underpants! Inside the book are flaps, foldouts and bountiful surprises.

The mighty roos pull the ute in a sweeping arc across the front of the book in a clever optical illusion.

For this book I painted 47 separate new pieces of artwork. These were expertly combined with some of the illustrations from
An Aussie Night Before Christmas
by a masterful paper engineer to produce something magical.  It was a great experience!
Aussie Night Before Christmas Pops Up!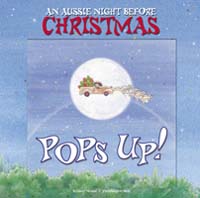 Copyright illustrations. © Kilmeny Niland 2007